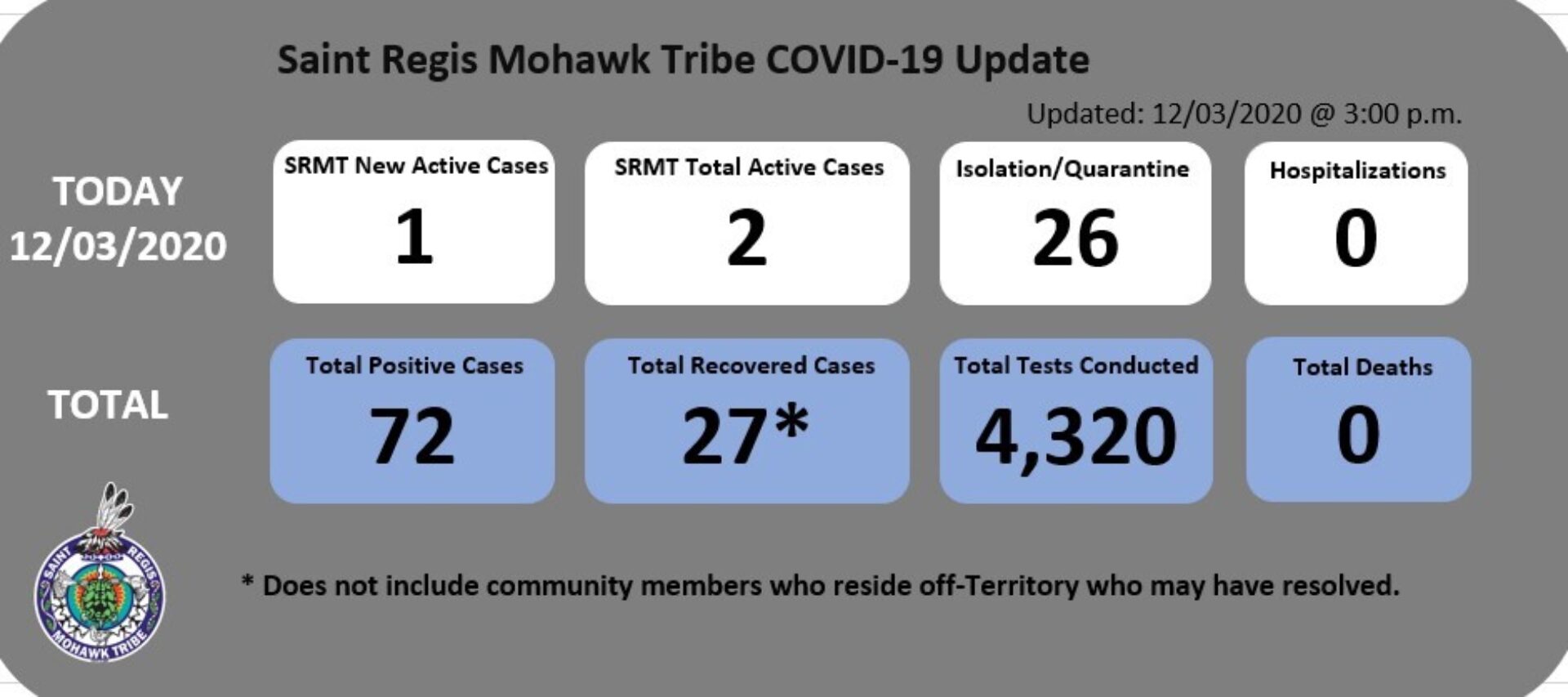 Tribe's EOC Reports One New Active COVID-19 Case
Dec 3, 2020
AKWESASNE — The Saint Regis Mohawk Tribe's Emergency Operations Center is reporting one (1) new active case of COVID-19 today, which makes two (2) active cases under the Tribe's jurisdiction. There remains an anticipated surge in cases following Thanksgiving, so individuals are urged to practice safety measures and to treat everyone as if they are positive.
COVID-19 Testing Availability
A total of 4,320 COVID-19 tests have been conducted by the Tribe's Health Services and its mass testing providers: Mountain Medical Urgent Care in Massena and Malone, as well as the Massena Hospital. This includes the community drive-thru testing clinics conducted for tribal staff and community members at the former-IGA Building.
The Tribe extends appreciation to tribal healthcare workers, tribal emergency management and safety staff, tribal administrative support personnel, and to healthcare workers from Mountain Medical, who have worked together to make the drive-thru test clinics possible during the past two months. Your dedication and compassion for our community has contributed to an efficient operation that is helping to keep our community safe and healthy during this difficult time.
The FREE COVID-19 Drive-Thru Test Clinic resumes at the former-IGA Building on December 8th, 15th, and 16th from 9:00 a.m. to 1:00 p.m. or until tests are gone. The drive-thru test collection is available for all Akwesasne residents and non-member employees of local businesses and schools. Individuals are encouraged to get tested or retested.
The above individuals may also schedule an appointment to receive a FREE COVID-19 Test by contacting Mountain Medical Urgent Care in Malone at (518) 521-3322 or Mountain Medical Urgent Care in Massena at (315) 705-0700. Individuals must call ahead to schedule an appointment.
If you have a non-medical emergency matter, please call the Tribe's Emergency Operations Center at (518) 320-0019.
For a listing of additional resources and services, please visit the Tribe's website at www.srmt-nsn.gov or our Facebook page. We're all in this together and we're all here to help you.
#####
The Saint Regis Mohawk Tribal Council is the duly elected and federally recognized government of the Saint Regis Mohawk People.