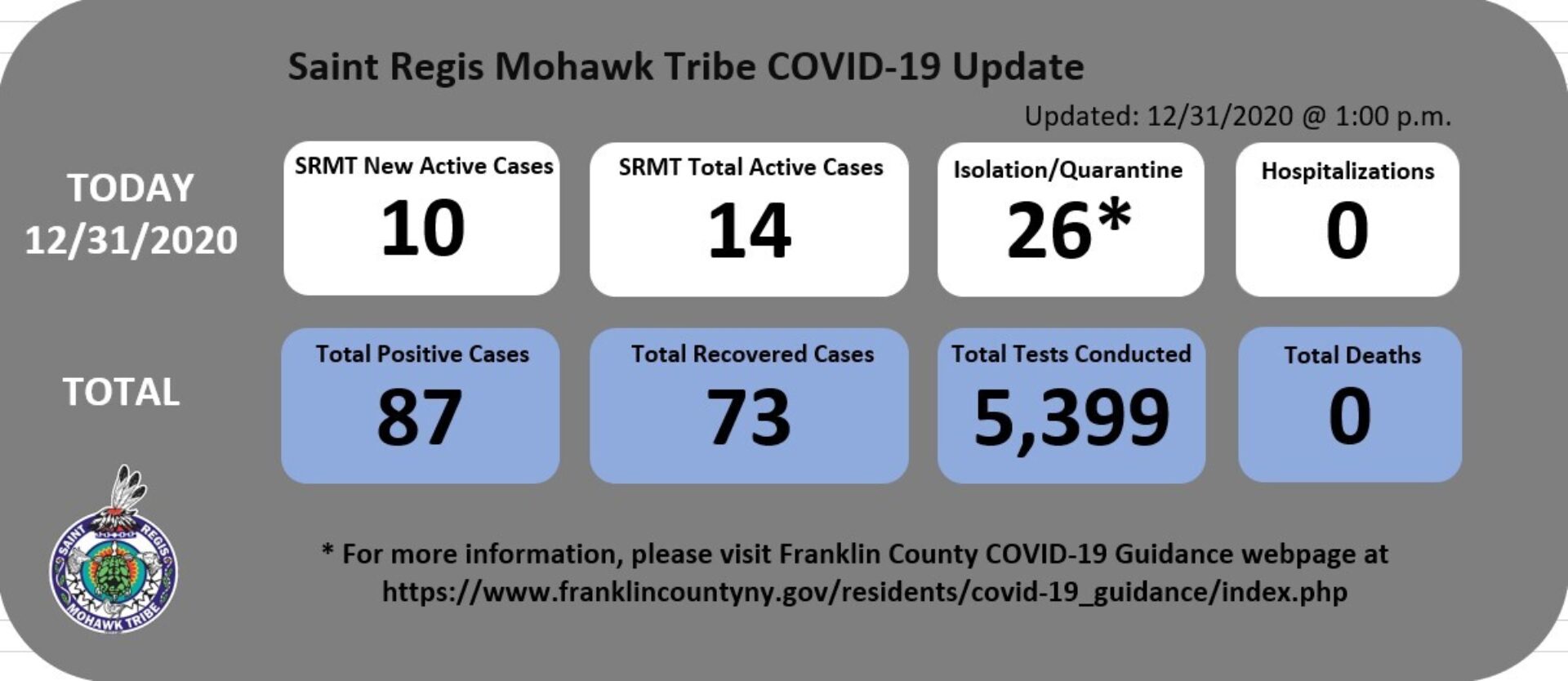 Tribe's EOC Reports Spike in COVID-19: 14 Active Cases
Dec 31, 2020
Urges Individuals to Stay in Immediate Household Bubble
AKWESASNE — The Saint Regis Mohawk Tribe's Emergency Operations Center announced a recent surge in positive COVID-19 cases following the holiday weekend. The EOC reported the number of active cases under the Tribe's jurisdiction increased to 14 during the past few days, with 26 family and friends in isolation or quarantine.
Uncontrolled gatherings and large parties involving individuals from other households is a main contributor to the recent surge. Other factors include holiday travel beyond the 300-mile radius or to identified exclusion areas, but the common denominator is that community members have let their guard down. Please remain vigilant for your and your family's personal safety.
Community members are urged DO NOT attend large house parties for New Year's Eve. Please be mindful that the more people you are in contact with, the more likely you are going to be exposed to the virus. Fewer safety protocols means greater the risk of being infected.
Individuals are being reminded that asymptomatic cases have become the most common form of community transmissions. An individual may not feel sick, but can still carry the virus and transmit it to others. Asymptomatic cases are infectious two days prior to displaying symptoms.
The EOC and Health Services announced that additional COVID-19 drive-thru testing clinics have been scheduled for January 7th, 12th, 13th, 19th and 26th beginning at 9:00 a.m. at the former-IGA Building. In the meantime, community members and Akwesasne employees may schedule an appointment to receive a FREE test by contacting Mountain Medical Urgent Care in Malone at (518) 521-3322 or Mountain Medical Urgent Care in Massena at (315) 705-0700.
For anyone seeking to obtain their COVID-19 results for a test conducted by Health Services or its mass testing providers, the tribal clinic has activated a new direct line at (518) 333-0230.
If you have a non-medical emergency matter, please call the Tribe's Emergency Operations Center at (518) 320-0019. If you require emergency food supplies or other essential items, please contact the Family Advocate's Office at (518) 358-3021.
For a listing of other tribal services and programs that are here to help you, please visit the Saint Regis Mohawk Tribe's website at www.srmt-nsn.gov or our Facebook page.
#####